Many club members, left overs from Kegworth Squash Club, which closed in February 1999 will remember one of our then youngsters from the 80's. Look how he has grown..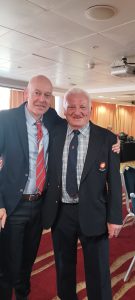 Simon Spencer and the webmaster, yours truly represented England in the Home Internationals  in Nottingham, The Park Squash Club,  at the weekend ( Fri/Sat 13/14/5/22) . Simon was seeded 3 in the Men's Over 55, 5 man, team – I, No 2, in the Men's O75 team 3 man, team. Men's O35 And Ladies O55 were also represented.
Unfortunately I lost my record of  never having lost representing England since 1998 – over 50 matches in Total over 20 seasons. Some honour was restored completing the rout of Scotland on Saturday afternoon who were runners up in this agegroup.  Coming back from 2-1 down to win a 34 minute battle in 5, to 11. As there are no older Age group provisions for this event, this is likely to be my  last appearance, being 81 in a few weeks time.
England won all the age Groups. The last event is next weekend  in Cardiff where the MO45 WO45 and MO65 will conclude  this year's Home International events.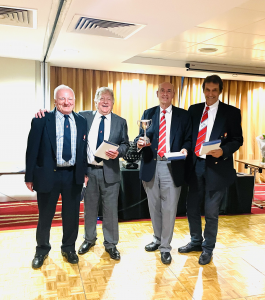 For more information see the England Squash Masters website