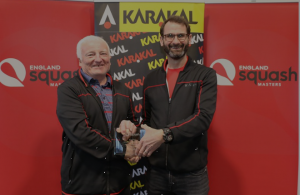 I know that some of you might be interested in your webmaster's activities outside of  the  club. At the weekend I claimed my 6th British Open Title.  see https://englandsquashmasters.co.uk should you have further interest.
Men's O80. The inspirational elder statesmen of the game were in action today. Led by four time World Champion Adrian Wright (YKS) he showed his renowned solid hitting as he despatched Geoff Coe (CHS) in straight games. In the other semi another former World Masters champion Lance Kinder (HPH) was giving a few years away to National Champion John Blurton (SFD) who proved to strong. A Wright / Blurton final.
Men's O80s. No one wins four World Masters titles without being able to hit a ball pretty well and Adrian Wright (YKS) can certainly do that. John Blurton (SFD) is the National Champion and has good mobility but he could not match the Silver Fox. A sixth British Open for Wright.